Access to Spruce Hill is on Route 2 in North Adams east of the hairpin turn. There is a convenient parking area on the south side of the road just west of the Florida, Massachusetts border. This is a popular hiking destination due to the fact that there are several breathtaking views in many different directions along the ridge within a relatively short distance and because the hike is not particularly difficult. The trails in along the ridge are well maintained and are very easy to follow. From this area, you will see Mt. Greylock, the Taconic Range on the New York border, The Dome in Vermont and possibly some other surprises on a clear day. There is an excellent map on the Berkshire Natural Resources website, but it may be difficult to find since it is listed under the Hoosac Range. There is a link to this site on my Links page. By the way, all of these photos were lightened due to inadequate exposure in late November.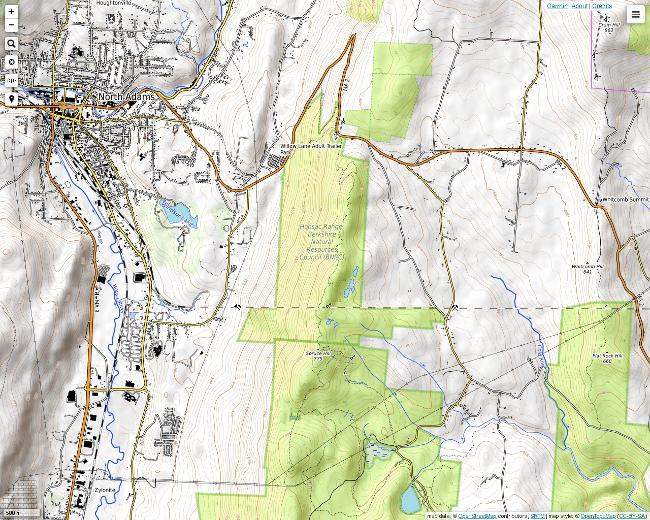 OpenTopoMap of Spruce Hill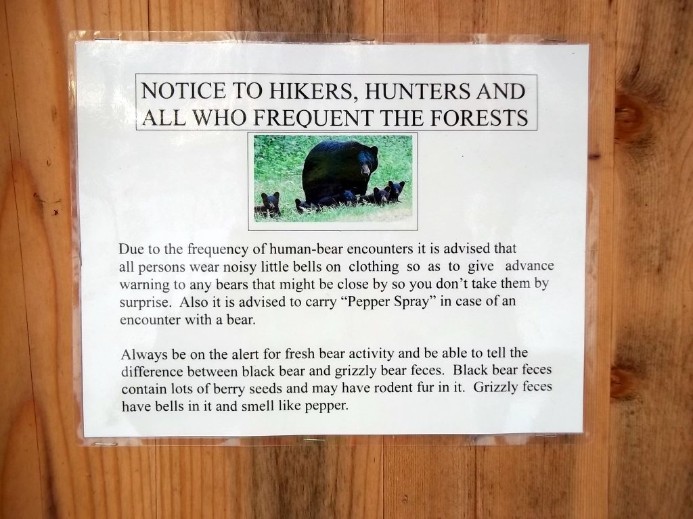 I noticed this sign on the way back to the car. I didn't have pepper spray. Nor did I see any bears, luckily. The only bear that I have seen so far was by the side of the road on Route 43 on the Williamstown-Hancock border.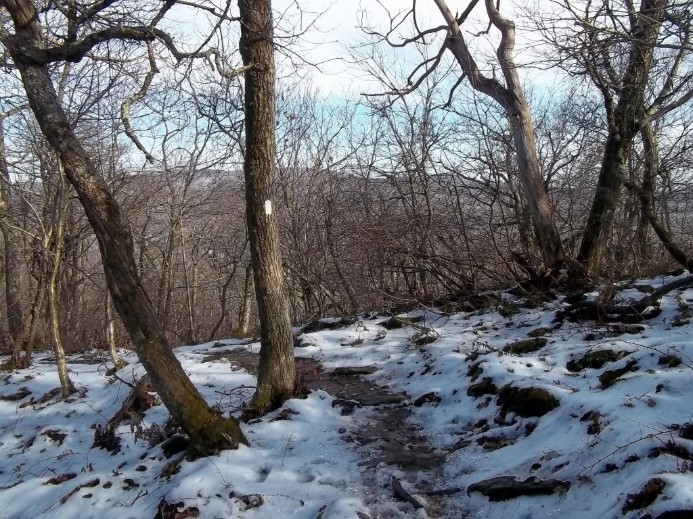 If you go after the leaves fall, you will see more of the surroundings. Hiking in the snow can be more comfortable as long as the weather is warm enough since you don't have to deal with summer heat or bugs.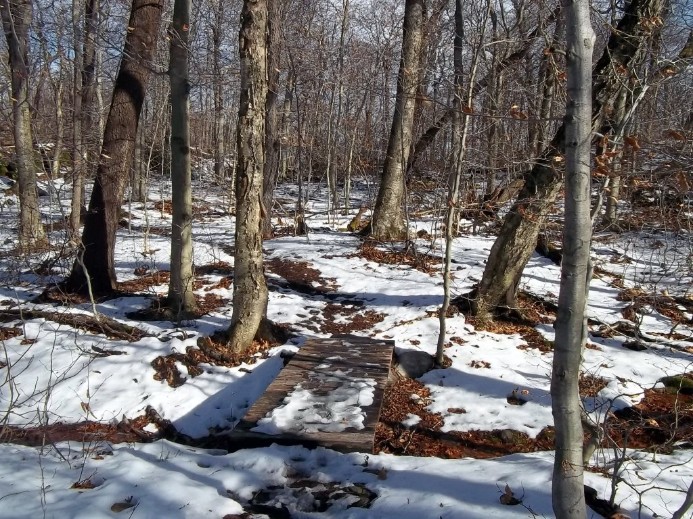 Crossing a bridge over a small stream. Otherwise, there were no brooks to cross.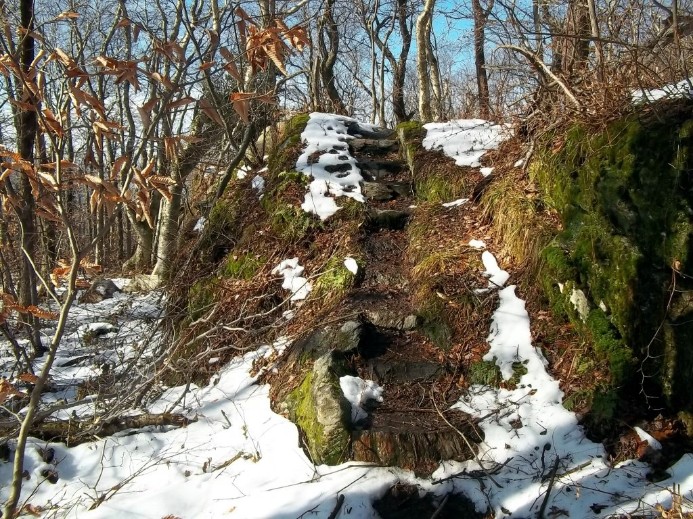 The trail goes down a man-made stairway surrounded by moss.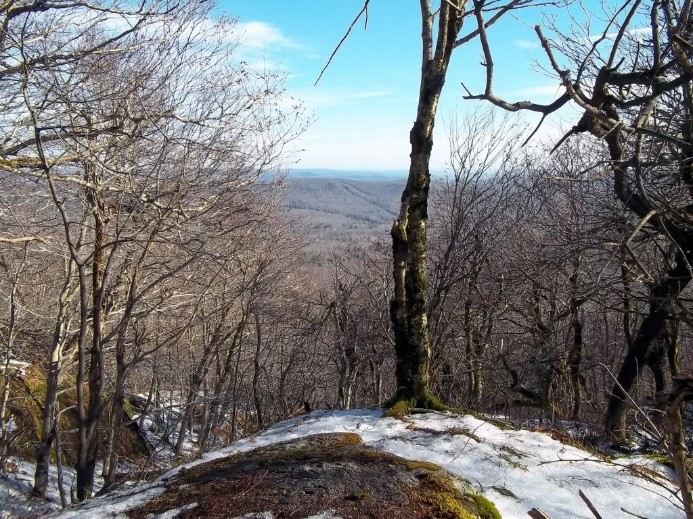 A clear lookout to the northeast slightly off the trail.
This is one of several clear views to the northwest from the ridge. Mt. Raimer and Berlin Mountain are clearly visible. North Adams and Williamstown are in the valley. The north end of the Mt. Greylock complex is in the foreground on the left.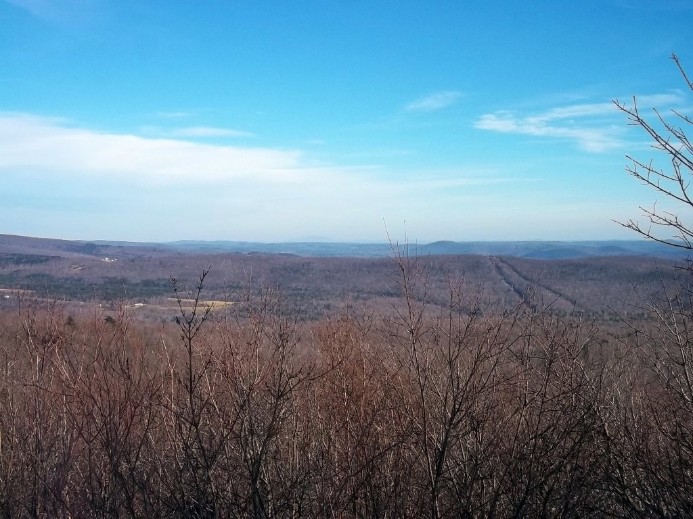 This is a view to the northeast. Out in the distance a faint singular mountain can be seen with a somewhat volcanic appearance. I think I know what it is, but I am probably wrong.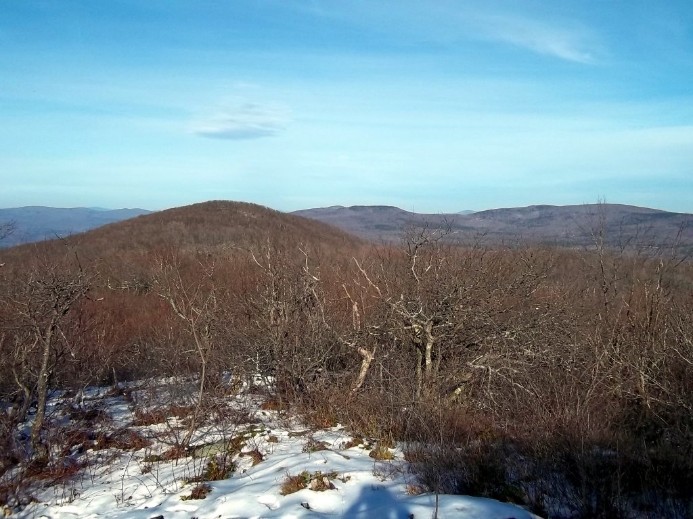 Here we are looking north along the ridge. The stunted vegetation can be found all along the higher sections of the ridge where it would be the windiest.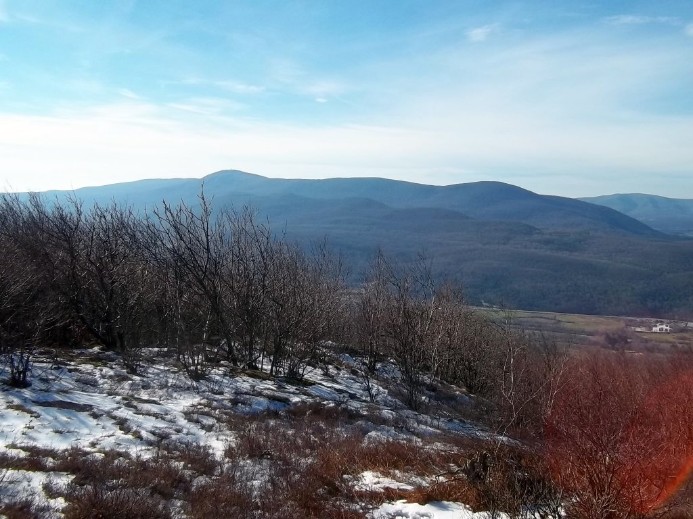 This is a view of Mt. Greylock and surrounding peaks. Route 8 is in the valley below. For some reason, I had a hard time taking pictures in this direction without getting the glare that you can see on the bottom right.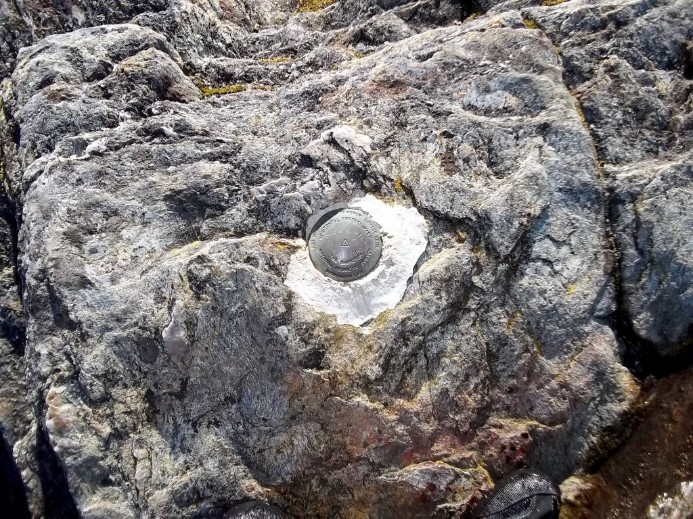 This benchmark marks the top of Spruce Hill. The BNRC trail ends here, but there are other trails that connect to this point from the south. They can be seen on the Savoy Mountain State Forest website hiking trail map.